Kinder en Baby zitjes
Bescherm je kinderen op elk moment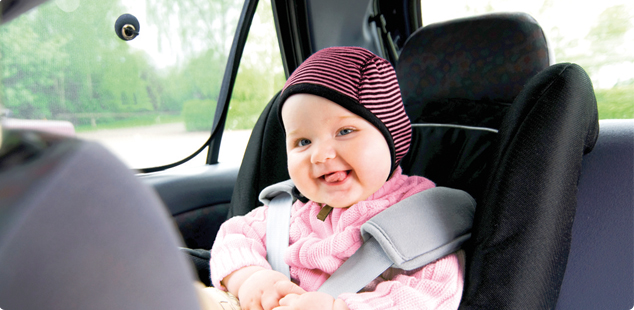 Niets gaat boven veiligheid, zeker als er kinderen op je achterbank zitten. Wanneer je een Budget huurauto reserveert, kan je steeds een kinderstoel aanvragen voor het kind of kinderen die met je mee reizen.
Om een kinderstoel te reserveren kan je simpelweg de juiste stoel selecteren tijdens de reservering, of je kan bellen naar een van onze telefonische hulpdienst.
Het is in Nederland verplicht dat een kind kleiner dan 135cm in een gepaste kinderstoel zit. Vraag hulp aan een van onze Budget medewerkers om ervoor te zorgen dat het kind in een gepaste stoel zit.
Bezoek de site van de Rijksoverheid om meer te weten te komen over de wettelijke verplichtingen omtrent kinderzitjes.
We hebben 4 kernvragen opgesteld om het uitkiezen van een kinderzitje makkelijker te maken. Wij begrijpen dat het huren van een auto moeilijk kan zijn, daarom willen we onze producten en diensten zo duidelijk mogelijk weergeven.
Welke kinderzitjes zijn beschikbaar?
Baby zitje
Gewicht: Baby's van 0 tot 13kg (ongeveer van 1 tot 12 maanden oud)
Vijf punts veiligheidsharnas dat met een hendel afgesteld kan worden
Extra vulling om de rug van zuigelingen te beschermen
Aangepast aan de meeste Britax kinderwagens dat een CLICK & GO

™

systeem hebben
Afgerond design aangepast voor wiegen en eten
Drie-puntsgordelsysteem
Te dragen op drie verschillende manieren
Extra vulling in hoofdsteun en geïntegreerd kussen voor een natuurlijke slaaphouding
Zon en wind beschermer
Extra borst vulling voor het comfort
Schokbestendig langs de zijkanten met dikke extra vulling.
Zuigeling zitje
Gewicht: kinderen van 9 tot 18 kg (Ongeveer 9 maanden tot 4 jaar)
Vijf punts veiligheidsharnas dat met een hendel afgesteld kan worden
Uniek controlesysteem dat het kind belemmerd naar voor te bewegen
Multi-verstelbaar systeem
Afgeslankte onderkant voor stabiliteit in auto's met kuipvormige stoelen
Drie punts gordel of twee punts schoot gordel
Schokbestendig langs de zijkanten met dikke extra vulling
Extra borst vulling voor het comfort
Makkelijk clicksysteem voor gordel
Harnas maakt het makkelijk om je kind in en uit het zitje te krijgen
Kinderzitje
Gewicht: kinderen van 15 tot 36 kg en kleiner dan 135cm (ongeveer 4 tot 11 jaar)
Schokbestendig langs de zijkanten
Makkelijk te bereiken gordel
Verstelbare rugsteun zodat het zitje past in verschillende auto's
Drie punts gordel
Gordel gaat correct over schouder en schoot van het kind
Hoogte van hoofdsteun is verstelbaar naar 11 verschillende posities
Er is een drankhouder en eet plateau
Booster zitje
Gewicht: kinderen van 22 tot 36 kilo onder 135cm (ongeveer 4 tot 11 jaar)
Schokbestendig langs de zijkanten
Compacte vorm voor makkelijk transport
Er zijn glijders zodat de beweging van de gordel over schouder makkelijker wordt
Zitje zorgt dat de auto's veiligheidsgordel je kind maximaal beschermen
Hoe reserveer ik een kinderzitje?
Een zitje kan je reserveren door de kinderstoel optie aan te duiden tijdens de 'voeg extra's toe' stap van het reserveringsproces. We kunnen geen kinderstoel garanderen indien deze niet gereserveerd is. Er zal ook gevraagd worden aan het huurkantoor of je een kinderstoel wenst. Je kan ook steeds telefonisch een zitje aanvragen. Indien je vergeten bent een zitje toe te voegen aan je bestaande reservering kan je deze online toevoegen.
Hoeveel kost een kinderstoel?
Prijzen zullen verschillen van land tot land. Vermelde prijzen zijn de prijzen voor standaard locaties.
De prijs van zitjes gereserveerd voor Premium locaties zullen hoger zijn. Controleer de prijs tijdens het reserveringsproces.
Waar zijn Budget kinderzitjes beschikbaar?
Kinderzitjes zijn beschikbaar in alle Budget kantoren in Nederland, Europa en Wereldwijd.
Indien je nog vragen hebt over kinderstoelen, kan je steeds bellen naar onze hulpcentrale. Ook onze medewerkers in de huurkantoren staan klaar om je verder te helpen.